Masterplan

Hailsham Aspires was created by Wealden District Council to bring forward plans to enhance and regenerate Hailsham Town Centre.
Our aim is to address the challenges the town centre currently faces, and to support local communities now and into the future, with a re-energised town centre that:
contributes positively to local economic growth
encourages investment
provides an improved experience for visitors and residents
In line with the Vision for Hailsham identified in the Hailsham Neighbourhood Plan, we want to create a bright future for the town as a key growth area in East Sussex.
This is a once in a lifetime opportunity to build sensitively and thoughtfully for the future of Hailsham, whilst celebrating our unique culture, heritage and identity.
The area being considered for regeneration is in the heart of Hailsham town centre. As the following map demonstrates this is a significant part of Hailsham which incorporates many key buildings. Any scheme will be carefully phased to ensure minimum disruption within this area and across Hailsham more widely, bringing about a successful regeneration.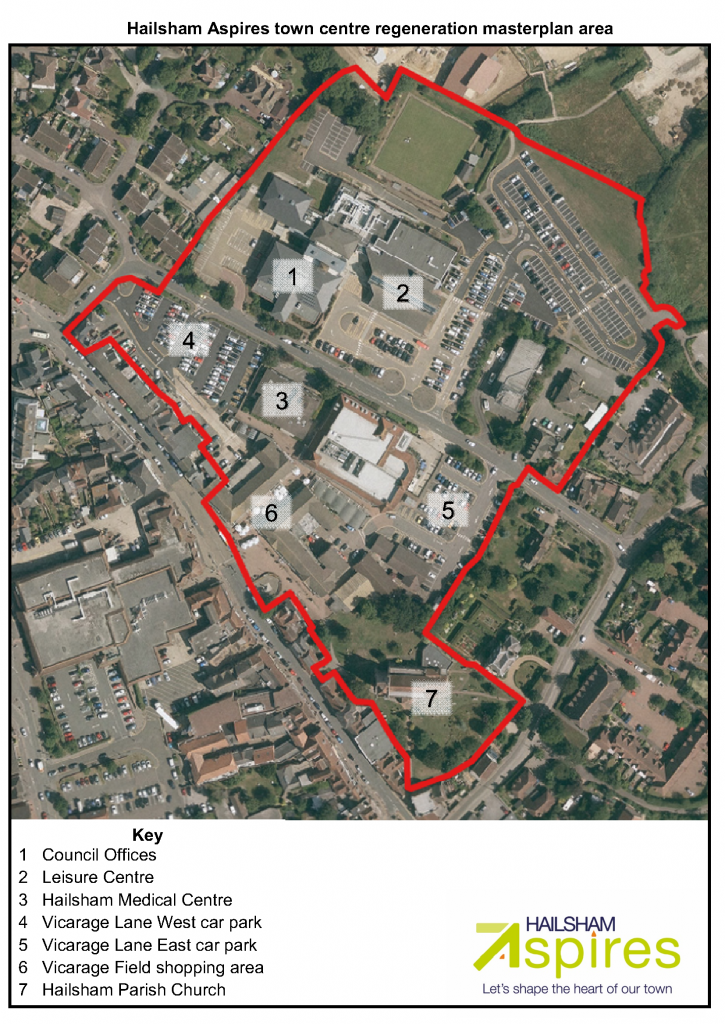 Wealden District Council is a key landowner in the town centre, and has been in conversations with other landowners and leaseholders to ensure the regeneration can be a success. A map to show the land ownership within the masterplan area is available to view here.
The vision for the regeneration of Hailsham Town Centre is to create a welcoming, inclusive and impressive design that draws on the history of the town and enhances its surroundings, whilst creating:
Exciting new shops, restaurants and cafes
Open public spaces
Major economic investment in Hailsham
New affordable and family sized homes
Exercise and leisure facilities
Community space for local groups
Invigorated evening economy
Connectivity and sustainability
To do this, seven key design principles have been created to guide the Hailsham Aspires Masterplan. These guiding principles have been developed on the responses received in the 2019 consultation as well as further reviews of existing evidence and a design and heritage review of the town centre. These documents are available to view in our document library.